Version 2.0 with incredible Demo Pages (import individual pages from any Demo), Automatic Theme Updates, two new Demo Sites (Business & Architecture) and tons of improvements is out! Changelog.
WordPress 4.9 ready!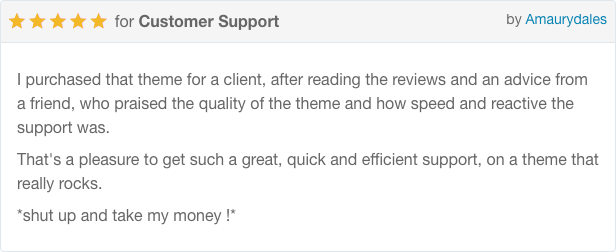 About Engage
Engage is WordPress reimagined for building websites. Powerful, feature packed, bundled with Premium Plugins & tonnes of Pre-Built Demos to get you started.
Incredible Complete Demos – Truly One Click
Complete list of prebuilt demos available here are absolutely, no kidding, one click. Simply preview and select the one you like the most during the Import and Activate Theme process, and you will be up and running in no time. Most demos are installed in under 5 seconds!
You can even select Content and Styling from different Demos to create something really unique using multiple selections of the available demo content for ultimate flexibility.
Mix and match to your heart's content!
Demo Pages – NEW!
Since the 2.0 update, Engage comes with a brand new way to import demo content to your site. Now, along with the full Demo Sites importer (that allows you to import a full Demo Site), you have an access to the incredible new feature "Demo Pages". It allows you import pages from any Demo Site individually. Let's say that you love our "Business" Demo Site. You decide to import it. But then again, you would like to use the layout of "Services" page in the "Agency" demo. Now, you may import only THAT specific page – without getting bloated with other posts and content. Awesome!
Drag & Drop Powerhouse
We are talking about Visual Composer of course! But not just VC, Engage has been created from the ground up using its unique page design philosophy combined with a unique extension crafted by Team Veented called 'Engage Templates'.
With these two elements at the core of Engage, you can forget about staring at a blank page ever again… select from a huge library of over 120 predefined templates that give you a strong foundation of building blocks to start with, where you take it from there is up to you.
From where-ever you are editing, click 'Add Template' browse the extensive library, click 'Load Template' and the entire selection is imported directly into the page you are editing. It's so simple and elegant it's hard to get your head around.
Advanced Theme Options Panel
Once you have chosen a demo and imported some content of your own it's time to start tweaking! Most of what you need to update will either be done in two places, either inside a Post where you edit content and upload images etc, or you wish to modify style, structure and form function. This can be done easily and on the fly from the Theme Options Panel.
It gives you access to general settings like Typography and Social Profiles, as well as many more advanced settings like the myriad of Header settings, Logo, Sidebar and Social Profiles. Everything is done right there, without a single line of code on your part. Genius – engage.
Speed Like You've Never Seen Before
Optimized for lightning performance, engage demos have been tested against industry best practice using tools including Pingdom & GT Metrix – with outstanding results you are going to have to see to believe!
Engage has also been supercharged and optimized with the latest coding techniques and strategies for end-user website speed – so your site can truly fly.
Do More with Bundled Plugin Power
Do, Be, Extend, Achieve, Inspire. These are all superlatives that spring to mind when thinking about the possibilities with Engage and the extended functionality these powerful plugins bring to the table.
Bundled with your purchase and easily activated during the installation process you have at your fingertips to create amazing slider animations, crazy grids of any sort and elegant forms that will make your heart sing.
Visual Composer – save $34!
Templatera – save $12!
Revolution Slider -save $25!
Layer Slider – save $22
Essential Grid – save $26
Not Just Another Setup Wizard
Engage comes with a blistering fast setup wizard that is not only truly one click, but so quick at importing demos and getting you up and running it truly must be seen to be believed. The Engage setup wizard will walk you through step-by-step the full installation process including Plugins and then guide you through the demo import should you chose to use it. It's intuitive, clean, and fast. We promise!
Hundreds of Web Elements You Will Love
When you buy Engage you gain access to literally hundreds of web elements that have been meticulously designed for modern websites. From elegant map solutions that include visual markers with colour palettes to suit any design, to buttons with icons, smooth edges, sharp edges and icons to boot – Engage has you covered.
These have all been carefully crafted to fit the visual aesthetic of the theme so that all you have to do is decide what you put and where, the rest is taken care of.
And if there is something you can't find, don't despair because the power and simplicity of Drag & Drop Page building at it's very best has been included too!
There is something really fabulous about a well designed Header, don't you agree? A beautifully crafted, elegant and intuitive Header design says to a customer 'Come in, take a look around, I'm all about you and I'm easy to use'.
Whether you want something basic like a top bar or sidebar, you can take it up a notch with alignment, split or overlaid. Select your header skin, font family, spacing and social icons. It gets deep before you really even know it, and it's all easy to access from the Theme Options panel.
Baked with WooCommerce
Like a really good cake, you need to bake your website with WooCommerce functionality at its core these days, so the results exceed your expectations. Which is exactly how we treated Engage.
Looking at it from the customer's perspective, we incorporated WooCommerce as the industry standard best practice in eCommerce solutions which gives you even greater control over your new shop pages by being completely compatible with hundreds of extra WooCommerce Extensions.
Boring shop front – goodbye!
Complete list of features
Multipurpose WordPress Theme
Pre-built demo sites – super comprehensive full demos included
Drag & Drop Page Builder – Visual Composer & Templatera
Engage Templates – get access to over 120 predefined sections with a single mouse click
Multiple Demo Homepage Layouts
Comprehensive Theme Options
Unlimited Styling – unlimited color/layout variations
WooCommerce Support – with 3 complete, pre-built Shop demos
Multilingual plugins support (WPML, qTranslate, Loco Translate and more) – easily create a website in multiple languages
Multiple Header Designs
High Performance
Super FAST Setup Wizard
Dark/Light skin – easily switch from light to dark skin
SEO Optimised
Premium Plugins Bundled:

Visual Composer
Templatera
Revolution Slider
Layer Slider
Essential Grid

Plugin Manager – easily install and activate plugins with a single mouse click
Built-in Contact Form – theme comes bundled with a simple contact form – no external plugins required!
Full Contact Form 7 plugin support.
Page Settings – metabox window available while editing/creating a page/post and allows to individually style some aspect of that post/page.
Free Support
Free Lifetime Updates
Multiple Footer Designs
Parallax and Video Backgrounds
Multiple page layouts:

Fullwidth (no sidebar)
Left sidebar
Right sidebar
Two sidebars
Each layout available in narrow, regular and stretched versions

Sidebar Generator – create as many sidebars (widget areas) as you need
Premium Sliders – Revolution Slider & Layer Slider
Unlimited Grids – build unlimited grids with Essential Grid premium plugin
Powerful Blog – many layouts with tons of styling options: masonry, grid, large image, small image
Extensive Portfolio – powerful portfolio module with hundreds of styling configurations
Multiple page width – regular, stretch, stretch no padding
Built-in Hero Sections and Hero Sliders – available within single VC blocks
Infographic elements – pie charts, line charts, counters and more
Pricing Boxes
Icon Fonts – get access to 5 different web font icons (including the famous FontAwesome, Line Icons and more)
Extensive Typography – fully customise all fonts, weights, line heights within Options panel
Google Fonts Library – accessible within a simple dropdown menu
HD Narrated Video Tutorials
RTL Support
Full The Events Calendar & The Events Calendar Pro Support
5 Star Support
We pride ourselves on our 5 Star Support rating and continue to support our buyers right through the lifecycle of their website building experience. We offer free technical support to every buyer and a simple log-in access to a modern support centre with your Envato sign on.
Extensive knowledge base and private or public tickets give you full access to support staff so you can get the answers you need – fast. Visit our Support Center now!
And yes – there is more! We prepared Full HD Narrated Video Tutorials that will help you learn the theme. We will show you how to install & setup the theme, install demo sites, create pages with page builder & Engage Templates, create portfolio, blog, contact page, configure contact form, google maps and so much more! See all videos here.
Theme Customization & Premium Services:
If you're looking for a premium WordPress (or web in general) customization services then you found the right place! We've just launched a new, dedicated branch of our company for that: Veented Studio. You may now hire us for any web related task including WordPress (or any other platform) site customization, WordPress installation & setup, content management, REST service integration or truly any other web related tasks. Please visit the Veented Studio website studio to learn more about our services and pricing!
Changelog:
14 November 2017 – 2.0 – First BIG update!
Added: Demo Pages – brand new way to import demo content to your site. Demo Pages allow you to individually import pages from ANY Demo Site available. Example: you decided to import the "Agency" demo as a base for your website but you like the layout of the "About us" page from the "Cafe" demo. Now, you may import that specific page without bloating your website! Awesome!
Added: Automatic Theme Updates – yes, they are here! You may now automatically update the Engage theme without a need to copy/manage files manually. Just visit the Theme Dashboard, insert your personal Token (powered by the new Envato API – instructions included) and voila! You will be notified about new theme updates directly in your theme's dashboard and they will be downloaded directly from secure, Envato servers.
Added: New Demo Site Business.
Added: New Demo Site Architecture.
Added: New "Top Heading" field in Engage Slider.
Added: An option to choose accent color in VC Icon element (as background and color).
Added: Full typography settings for breadcrumbs in Theme Options / Page Title / Breadcrumbs.
Updated: Premium plugins are now stored on insanely fast Amazon S3 storage.
Updated: Essential Grid plugin to the latest version.
Updated: Revolution Slider plugin to the latest version.
Updated: Main demo now comes with the "Engage Slider" example included with Home 1 layout.
Fixed: Sticky header border/shadow issues when using a transparent header layout.
Fixed: Flip boxes display issue.
Fixed: Font rendering issues on Safari browser when using a certain typography configuration.
Minor bug fixes.
11 November 2017 – 1.2.1
Added: New web element "Contact Details" – a simple icon/text list for contact purposes: address (that can be linked to a Google Map), two phone numbers (open a phone tool) and two email addresses (open an email client).
Added: An option in "Client Logos" element to open links in a new tab.
Added: An option in "Client Logos" to increase logos height in case of vertical images.
Updated: Contact related Engage Templates have been updated to the new "Contact Details" component.
Updated: "Veented Contact Details" widget now supports phone number links.
Fixed: Dark mobile header issues on mobile devices (wrong background color).
Fixed: A mobile navigation toggle not being displayed on mobile devices when using "Top Center Logo" header design
Fixed: Wrong URL for images imported with few Demo Sites.
Fixed: Portfolio Mosaic layout minor image resizing script issues.
Minor bug fixes.
We recommend to update the entire Engage theme and Engage Core plugin for maximum compatibility.
6 November 2017 – 1.2
Added: New demo site "Church" with Events Calendar plugin integration example.
Added: New demo site "Photography Modern".
Added: Full "The Events Calendar" and "The Events Calendar Pro" plugin support.
Added: "The Events Calendar" plugin has been added to the Plugin Manager for easy access.
Added: New "Image Grid" element image size – masonry.
Added: Full RTL Support
Added: Row and Column background image automatic optimisation.
Added: "Custom HTML" field is now available in Theme Options / Advanced for easy custom code placement before the site's tag (great for Facebook Pixel, Google Analytics or other scripts).
Added: Arrow navigation for Hero Section with image slider as a background.
Updated: Main Demo.
Bug fixes.
We recommend to update the entire Engage theme and Engage Core plugin for maximum compatibility.
2 November 2017 – 1.1
Full WordPress 4.8.3 support.
Fixed: Side header mobile issues.
Fixed: Top Center mobile issues.
Fixed: Column responsive layout issue on vertical tablet view.
Fixed: Portfolio grid responsive issue on tablet.
Fixed: Hero section video background issue on mobile devices.
Fixed: Fixed: responsive issue with hero section subtitle with a custom font size.
Minor bug fixes.
Files updated: /css/responsive.css, style.css, /framework/admin/theme-dashboard.php, /js/engage.grid.js, /js/engage.main.js, Engage Core plugin.
We recommend to update the entire Engage theme and Engage Core plugin for maximum compatibility.
31 October 2017 – 1.0
Credits